Life outdoors is better with a furry best friend, which is why all of our six locations are dog-friendly and situated near amazing hikes. Wherever you're adventuring this summer, be sure to check out these scenic treks for nature lovers of both the two- and four-legged variety.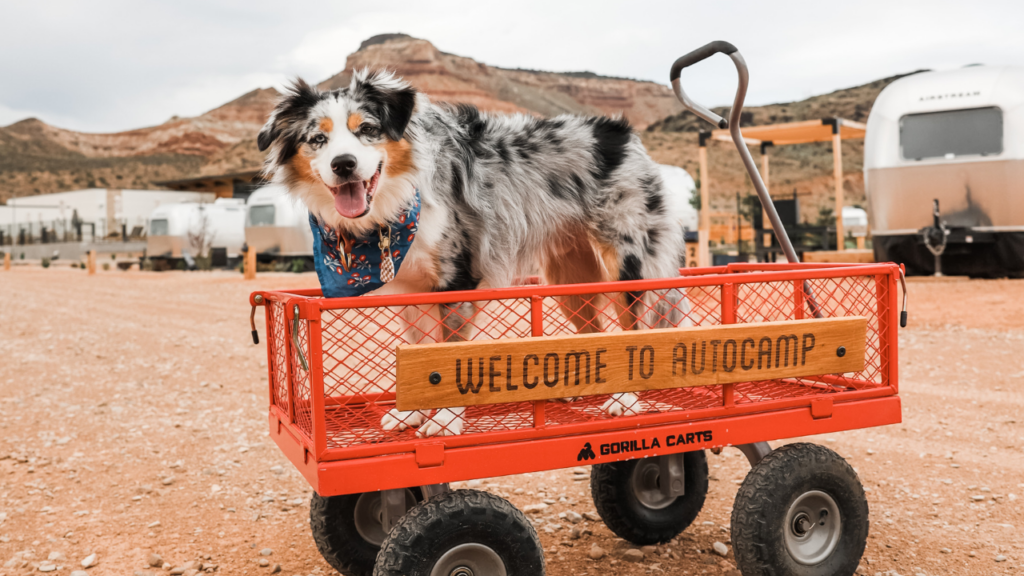 Yosemite
While national parks in general are not very Fido-friendly, Yosemite National Park is surprisingly so. The Wawona Meadow Loop Trail is one of the top trails in the park for pups. This 3.5-mile hike encircles one of Yosemite's largest, most verdant meadows, including a small section of the Wawona Golf Course. Lower Yosemite Falls Trail is another easy, paved one-mile loop that's great for dogs and families, plus it winds past North America's tallest waterfall.
Zion
For the most part, Zion National Park has a strict no-pets policy. Only one trail within the park allows doggos: Pa'rus Trail. Pa'rus begins at the Zion Canyon Visitor Center and extends 3.5 paved miles that skirt the Virgin River. That said, there are plenty of trails around the park for doggy day hikes with spectacular scenery. If you head out of Zion via the East Entrance, you'll find a bunch of dog-friendly trails near Kanab. Try a ramble to Red Hollow Slot Canyon, Squaw Hill, or the Coral Pink Sand Dunes.
Joshua Tree
Like Zion, Joshua Tree National Park pretty much keeps pets to the pathways. But there are two, designated dog-friendly road hikes that your furry friend is sure to love: Bighorn Pass Road and Geology Tour Road. Bighorn is a 4.6-mile out-and-back trail near Desert Hot Springs, while Geology Tour lives up to its name with an 18-mile motor tour that cuts through the park's most fascinating landscapes, including beautiful granitic monoliths and plenty of scenic pullouts for desert romps.
Russian River
What's better than a Sonoma hike with your four-legged, best buddy? A Sonoma hike with your four-legged, best buddy that ends with a dip in a cool, freshwater river. Accessed via a short, easy trail, Forestville River Access leads to a wide, sandy beach on the Russian River for splashing good times. In Healdsburg, Riverfront Regional Park offers more pooch-inclusive treks with an abundance of river-adjacent trails that are ideal for hiking and swimming with your furry sidekick.
Catskills
Nothing beats a woody hike through the forests of Upstate New York, and our Saugerties location sits adjacent to year-round, outdoor fun for you and your canine companion. The best dog-friendly trail in Catskill Park is Escarpment Loop, Kaaterskill Falls, Bastion Falls, and South Lake Loop. Opt for an outing through Kaaterskill Wild Forest for 7,620 acres of exploring. However, if you're looking for elevation gain, Overlook Mountain via Prediger Road Trailhead boasts the most with 3,700 feet of total ascent.
Cape Cod
Leash up your pup and head to Bell's Neck Conservation Lands. It's an hour drive from our Cape Cod location but totally worth the daytrip. Here you'll find a steady trail for dogs and humans alike that winds past the Herring River and the West Reservoir. You can get a good view of the water and the salt marsh as you walk. Keep an eye out for ospreys and the black-crowned night heron in the summer.
Note to humans: Please clean up after your furry friends! And always comply with local and state leash laws so that we can keep these areas beautiful and safe for one and all.