Read on for a full list of everything that's included in each of our suite types. The only difference between the Vista, Premium and Classic Airstreams is their location. Classic Airstreams are more centrally located. Premium Airstreams offer a more private location. Vista Suites offer the most privacy in addition to the best views.
AIRSTREAM SUITE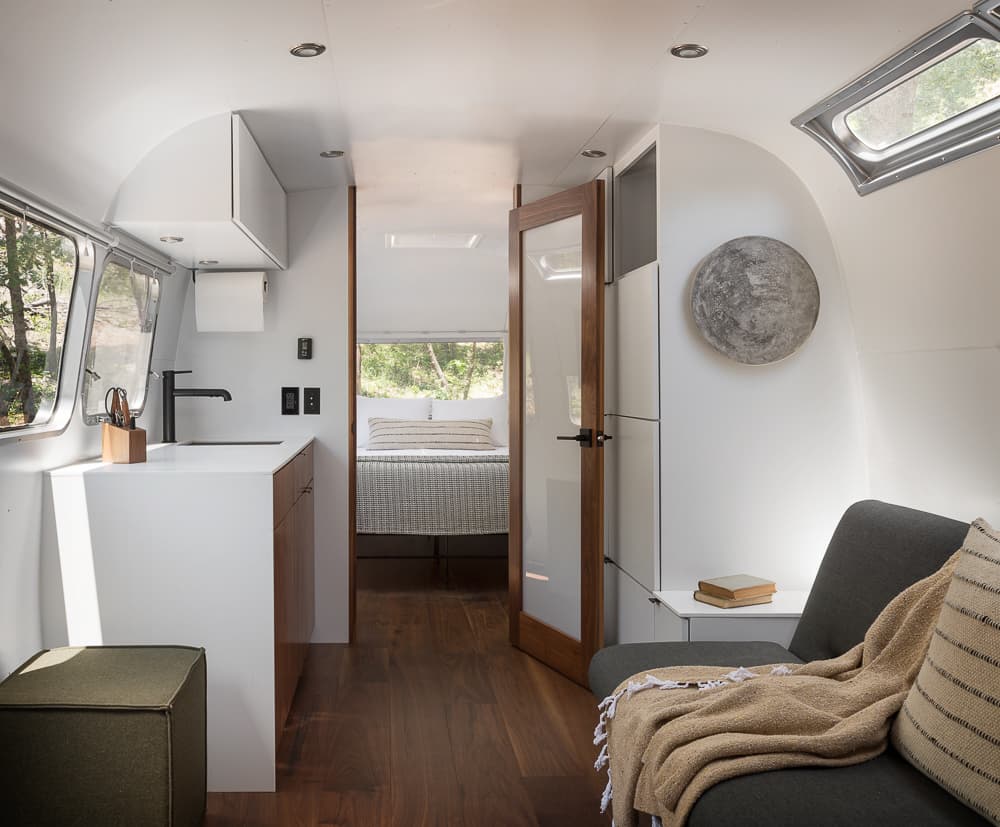 Sleep
Queen size memory foam bed with luxury linens

Full size pull out futon with luxury linens

Flat-screen television with cable channels

Wall heaters

Air conditioning

Full length mirror

Wardrobe with clothing hangers
Bath
Walk in shower

Bath towels

Ursa Major shampoo

Ursa Major conditioner 

Ursa Major body wash 

Hair dryer

Makeup wipes

Full-size flushing toilet 

Toilet paper

Vanity mirror
Cook
Built-in audio system with Bluetooth

4 dinner plates

4 side plates

4 soup bowls

Flatware for 4 people

3 piece knife set (paring, bread, chefs)

Large metal spoon

Cutting board

Pair of scissors

Wine opener

Bottle/can opener

4 Coffee mugs

4 Wine glasses

12 inch cast iron pan (AutoCamp Zion guests, please see front desk for a cast iron skillet)

Cork trivet

Pot holders

1 microwavable Pyrex dish with cover

4 piece copper bowl set

Convection microwave 

Salt and pepper

Pour-over coffee

Electric tea kettle

Sugar and sweeteners

Herbal and caffeinated tea

Pasteurized individual non-dairy creamers

Countertop tray

Dish soap

Sponge

Hand towels

Dustpan and brush

Kitchen towels

BBQ mitt

BBQ tool kit (Tong, spatula, cleaning brush, and fork)

Trash bin

Recycle bin

Mini refrigerator

Outdoor firepit with grill
Outdoor
Outdoor firepit with grill

Dining table 

4 dining Chairs 

2 fire pit chairs

Easy light matches

Fire extinguisher
LUXURY TENT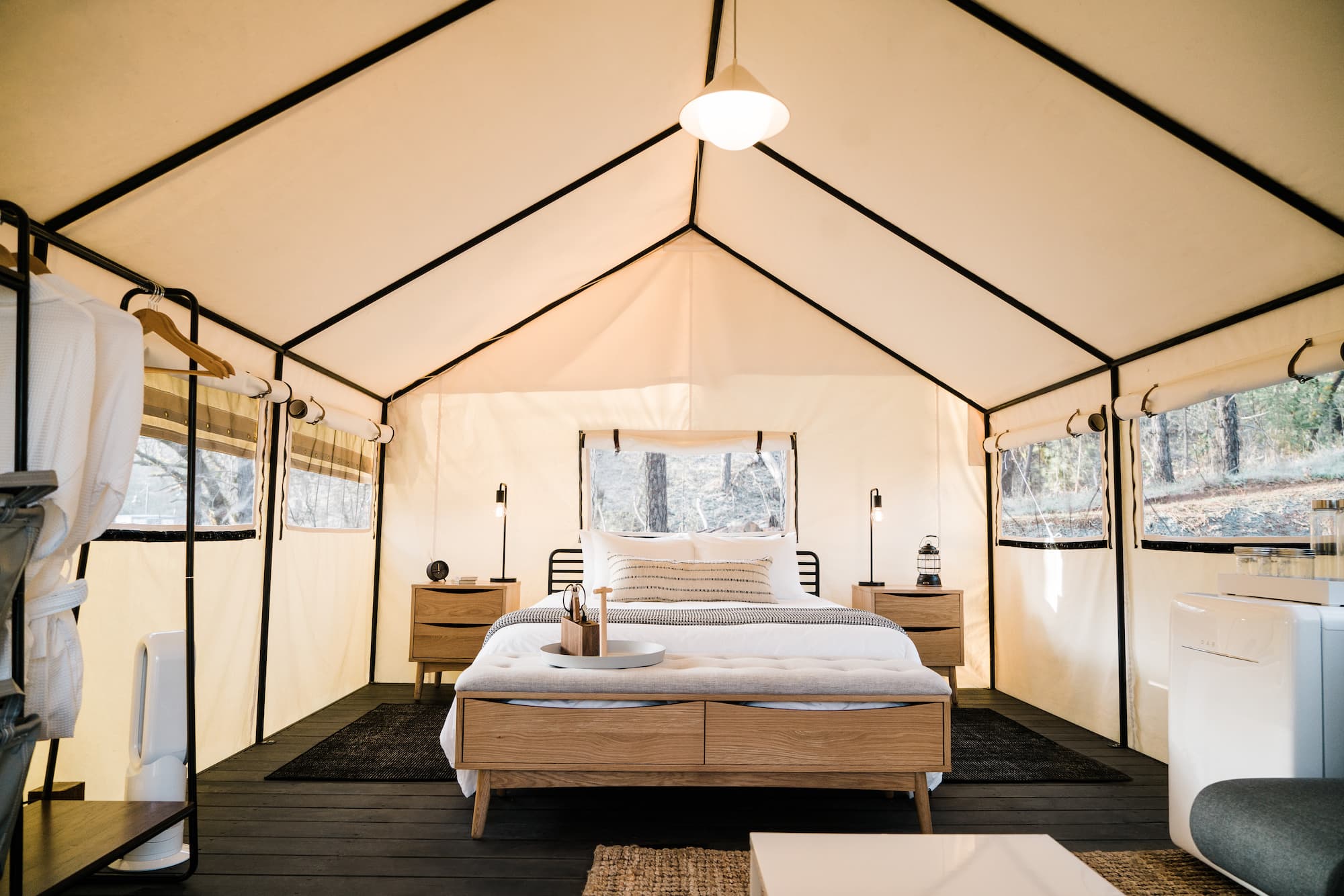 Sleep
King size memory foam bed with luxury linens (Queen size at Russian River)

Full length mirror

Full size pull out futon with luxury linens (Not available at Russian River)

Garment rack with hangers
Bath
2 bathrobes

Bath towels

Please note: There are no bathrooms in the Luxury Tents. However, a short walk away, you will have access to the Clubhouse bathrooms, showers, and amenities including Ursa Major shampoo, conditioner, and body wash, plus towels, and hair dryers.
Cook
Compostable dinnerware and utensils

Wine opener

Cutting board

Pair of scissors

Bottle/can opener

Electric tea kettle

Pour-over coffee

Sugar and sweeteners

Herbal and caffeinated tea

Countertop tray

Hand towel

BBQ mitt 

Trash bin

Outdoor firepit with grill

Mini refrigerator (only a cooler is provided at Russian River)

Disinfectant wipes
Outdoor
Outdoor firepit with grill

2 firepit lounge chairs

Easy light matches
PREMIUM BASECAMP SUITE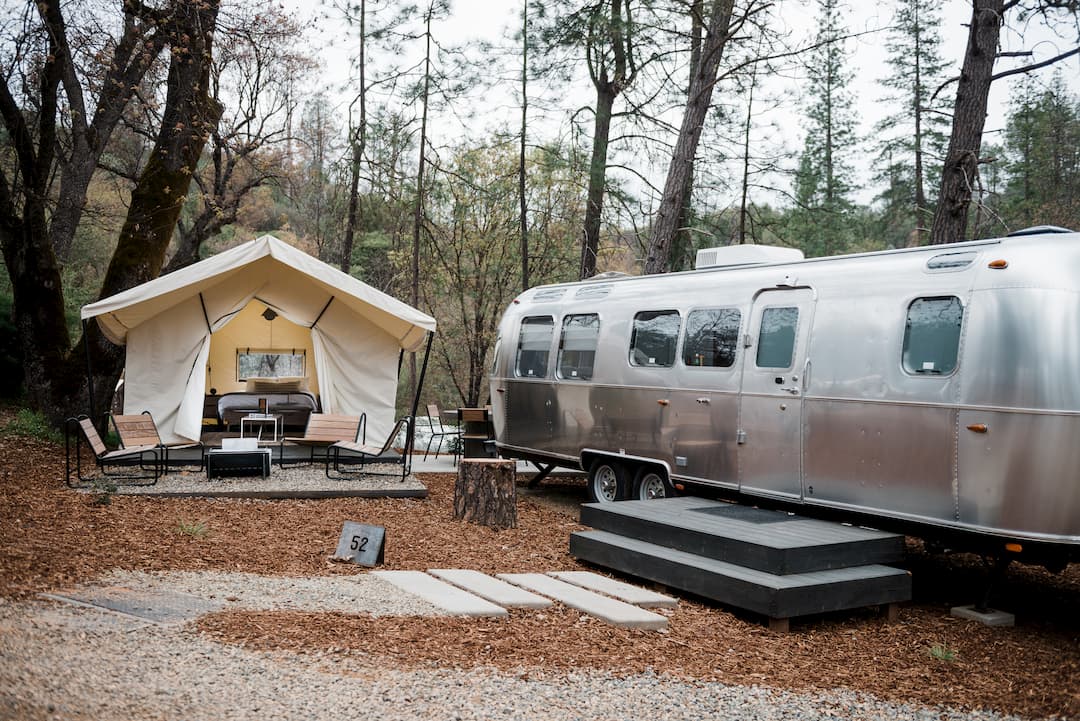 Our Premium BaseCamp Suites combine all of the amenities included in one Airstream Suite and one Luxury Tent, as noted above, as well as one private outdoor patio space which includes:
Outdoor firepit with grill

Dining table 

4 dining Chairs 

2 firepit lounge chairs

Easy light matches

Fire extinguisher
BASECAMP MINI SUITE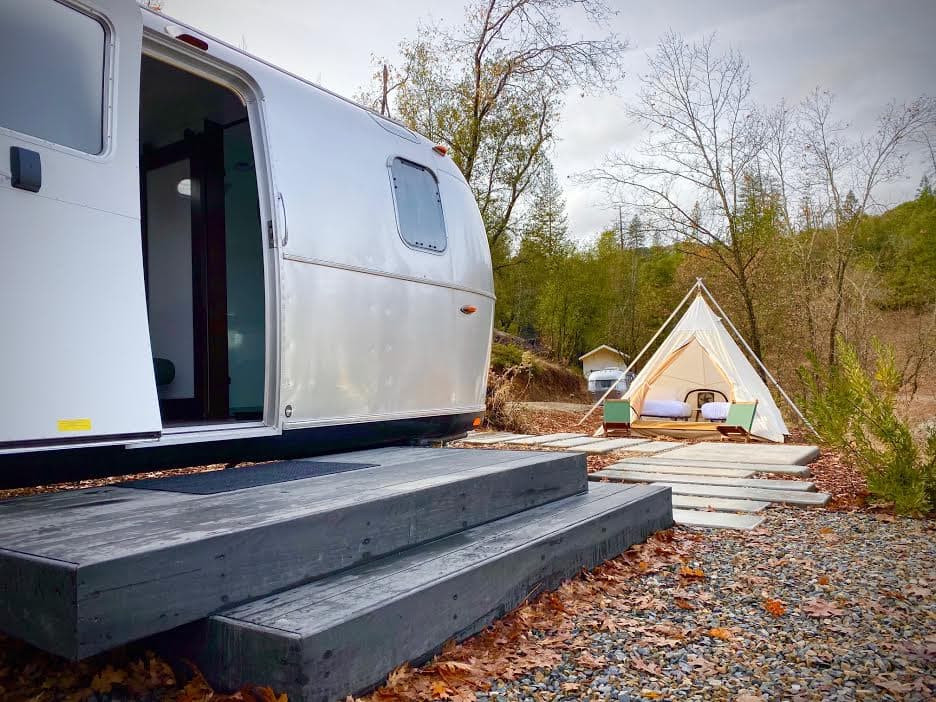 Our seasonally-available BaseCamp Mini Suites feature both a 31-foot custom-designed Airstream Suite with kitchenette and dining area, and custom kids' Tent at one site. The kids' Tent has two child-sized twin beds. The Airstream suite features all of the amenities listed above. Each BaseCamp Mini Suite features one private outdoor patio space which includes:
Outdoor firepit with grill

Dining table 

4 dining Chairs 

2 firepit lounge chairs

Easy light matches

Fire extinguisher
FAMILY CABIN SUITE (AutoCamp Yosemite and AutoCamp Catskills only)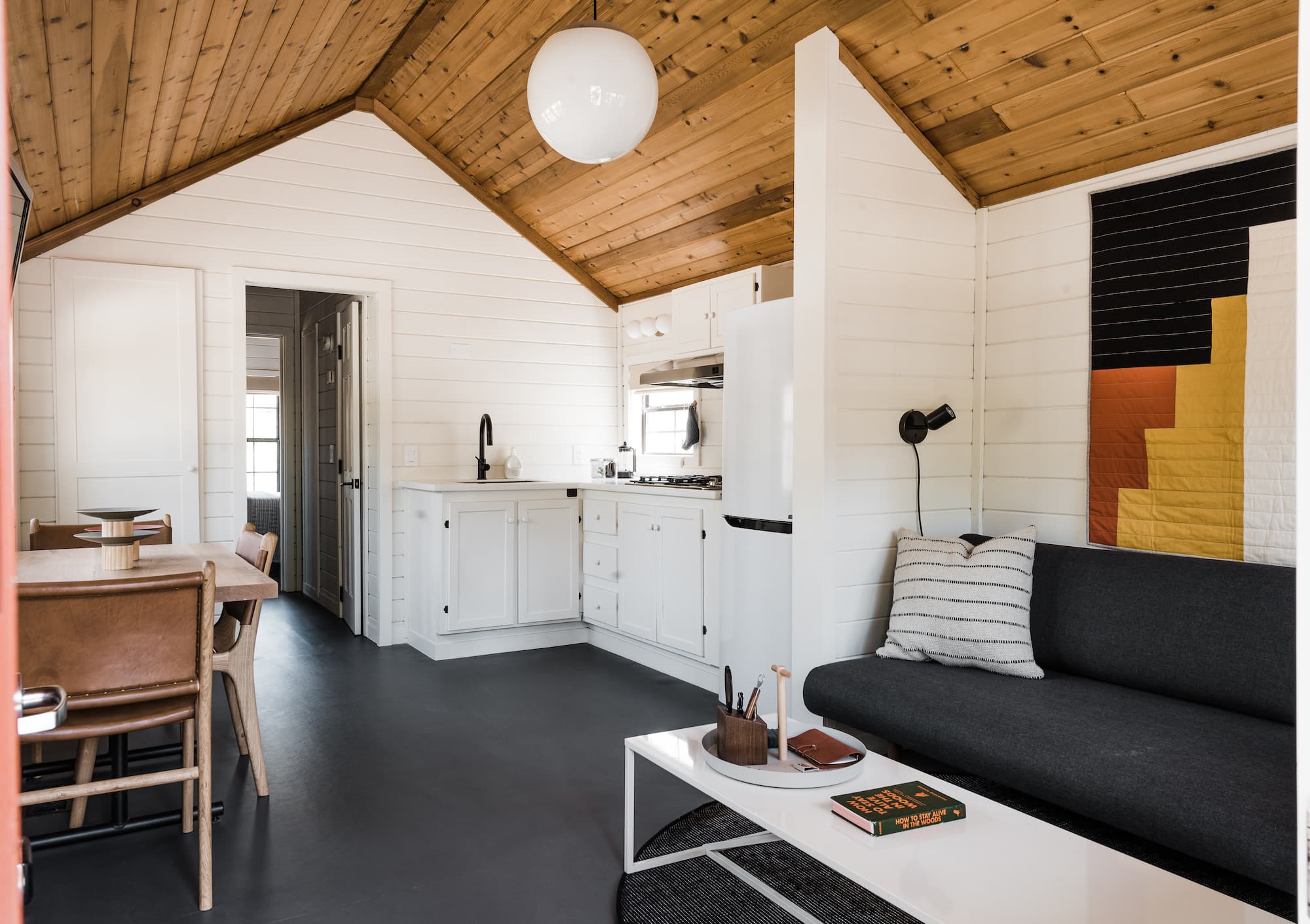 Sleep
Queen size memory foam bed with luxury linens

Full size pull out futon with luxury linens

Twin bunk beds with luxury linens

Flat-screen television

Wall heaters

Air conditioning

Full length mirror

Wardrobe with clothing hangers
Bath
Walk in shower

Bath towels

Ursa Major shampoo

Ursa Major conditioner 

Ursa Major body wash 

Hair dryer 

Makeup wipes

Full-size flushing toilet 

Toilet paper

Vanity mirror
Cook
Gas stovetop range

4 dinner plates

4 side plates

4 soup bowls

Flatware for 4 people

3 piece knife set (paring, bread, chefs)

Large metal spoon

Cutting board

Pair of scissors 

Wine opener

Bottle/can opener

4 coffee mugs

4 wine glasses

12" cast iron pan 

1 cork trivet

Pot holders

Microwavable Pyrex square dish with cover

4 piece copper bowl set 

Convection microwave

Salt and pepper

Pour-over coffee

Electric tea kettle

Sugar and sweeteners

Herbal and caffeinated tea

Pasteurized individual non-dairy creamers

Two TV tray tables

Countertop tray

Dish soap

Sponge

Hand towels

Dustpan and brush

Kitchen towels

BBQ mitt 

BBQ tool kit (tongs, spatula, cleaning brush, and fork)

Trash bin

Recycle bin

Mini refrigerator

Outdoor firepit with grill
Outdoor
Outdoor firepit with grill

Dining table

4 dining chairs

2 firepit lounge chairs

Easy light matches

Fire extinguisher
ACCESSIBLE CABIN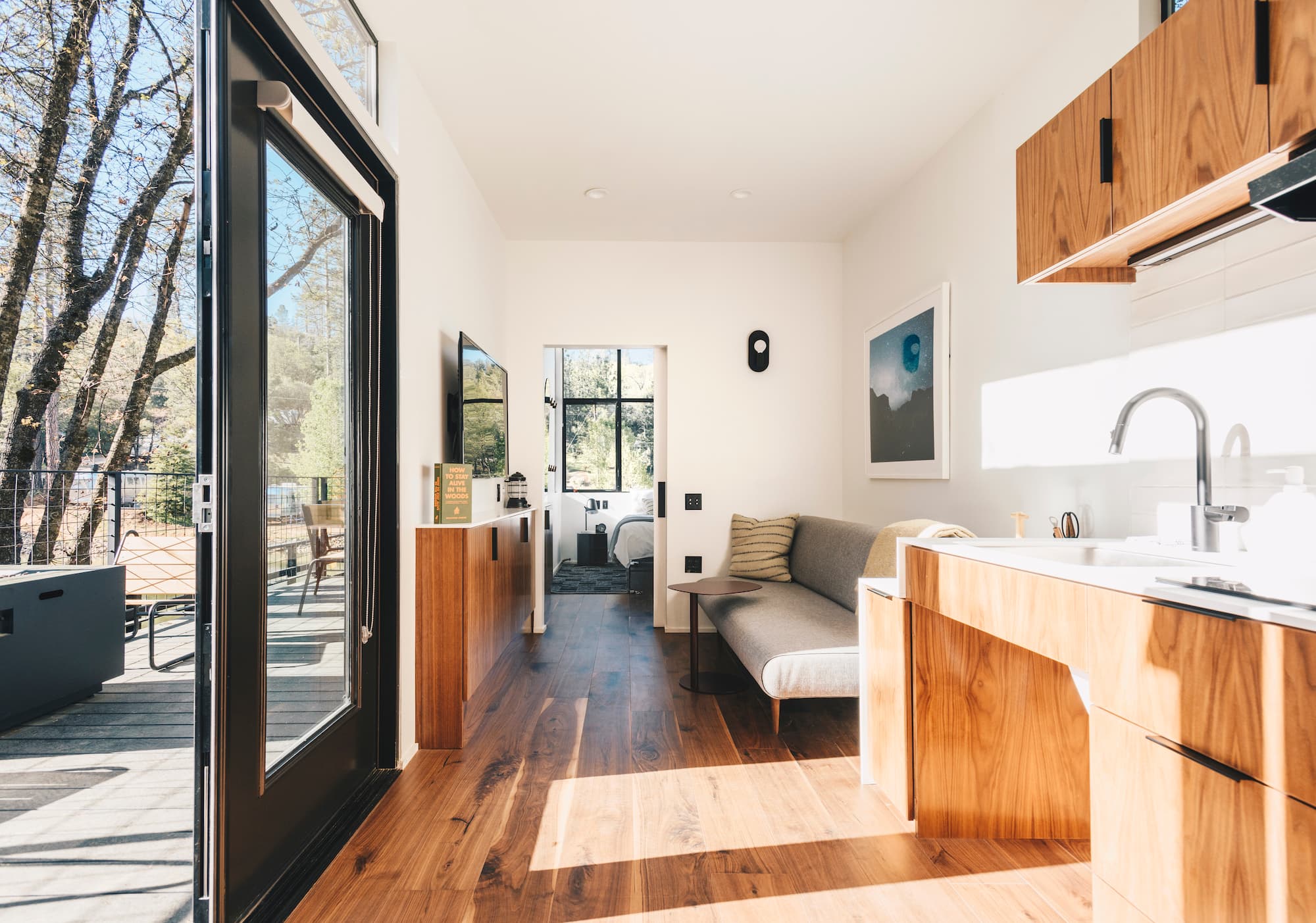 Sleep
Queen size memory foam bed with luxury linens

Full size pull out futon with luxury linens

Flat-screen smart television

Wall heaters

Air conditioning

Full length mirror

Wardrobe with clothing hangers
Bath
Bath towels

Ursa Major Shampoo

Ursa Major Conditioner 

Ursa Major Body Wash 

Hair dryer 

Makeup wipes

Full size flushing toilet 

Toilet paper

Vanity mirror
Cook
Built-in audio system with Bluetooth

4 dinner plates

4 side plates

4 soup bowls

Flatware for 4 people

3 piece knife set (paring, bread, chefs)

Large metal spoon

Cutting board

Pair of scissors

Wine opener

Bottle/can opener

4 coffee mugs

4 wine glasses

12 inch cast iron pan (AutoCamp Zion guests, please see front desk for a cast iron skillet)

Cork trivet

Pot holders

Microwavable Pyrex dish with cover

4 piece copper bowl set 

Convection microwave

Induction cooktop

Induction cookware (2 pots and 1 frying pan)

Salt and pepper

Pour-over coffee

Electric Tea Kettle

Sugar and sweetener

Herbal and caffeinated tea

Pasteurized individual non-dairy creamer

TV tray tables

Countertop tray

Dish soap

Sponge

Paper hand towels

Dustpan and brush

Kitchen towels

BBQ mitt 

BBQ tool kit (tongs, spatula, cleaning brush, and fork)

Trash bin

Recycle bin

Mini refrigerator

Outdoor firepit with grill
Outdoor
Outdoor firepit with grill

Dining table

4 dining chairs

2 fire pit lounge chairs

Easy Strike matches

Firepit wire brush

Fire extinguisher