Thinking of bringing your kids along to AutoCamp Russian River? Read more about our kid policy and popular family-friendly activities on-site and around the neighborhood.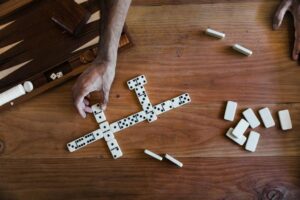 ON-SITE ACTIVITIE
VINTAGE BOARD GAMES IN THE CLUBHOUSE
Test your Scrabble and Monopoly skills around the fire. Find board games and cards in the Clubhouse.
OUTDOOR GAMES FOR THE LAWN AND GROVE
Enjoy the sunshine with a game of corn hole or ladder toss on the lawn.
OFF-SITE ACTIVITIES
KAYAKING/CANOEING ON THE RUSSIAN RIVER
Enjoy a self-guided trip or guided trip down the Russian River. Crew members provide a fun and positive experience on the Russian River. Bring a picnic lunch and stop along the riverbed for a mid-day meal! See guided tours by local King's Sport & Tackle or Burke's Canoe Trips.
MONTE RIO BEACH
Family friendly and about an 8 minute drive from AutoCamp Russian River, Monte Rio beach is the largest public beach on the lower Russian River. Lounge on the sand, canoe, kayak, or float the day away under the sun.
DOWNTOWN GUERNEVILLE
Visit this vintage toy and candy store and watch your kids' eyes light up. Stop by for a sweet treat, arts and crafts, or a river float!
Enjoy a scoop or two at our favorite ice cream store in the area. Choose from unique flavors such as Lavender Honeycomb, Maple Bourbon Bacon Brittle, Strawberry Buttermilk and Icebox Cake.
Start your day off right with an amazing breakfast at this local favorite eatery. Grab lunch to go and have a picnic on the beach or in Armstrong Woods. Kids will love these famous biscuits!
FAMILY-FRIENDLY WINERIES
Take advantage of your close proximity to some of the world's most famous wineries. And bring the kids along!
Having been around for over 150 years makes this the oldest family-owned winery in California. With seasonal events like a concert series and an outdoor movie night under the stars—combined with beautiful grounds and valley views—it's the perfect picnic setting.
2000 Denmark St. Sonoma, CA
707-938-5277
Website: gunbun.com
Cline Cellars Vineyard and Winery
350 acres means something for everyone at this family go-to. And while the grounds don't look like much driving in, once you're behind the wall, kiddos are treated to a breadth of pretty lawns, ponds, paths and fountains, and the California Mission Museum with its historic display of all 21 missions built to scale in 1939. They'll love seeing the turtles, fish and exotic birds while you'll love the wine tasting in a charming 1850s farmhouse.
24737 Arnold Dr., Sonoma, CA
707-940-4000
Website: clinecellars.com
KIDS POLICY
Our goal is to provide a quiet, tranquil experience for our guests.Well-behaved children are welcome with their families. Loud and unruly behavior is prohibited. Guests are not permitted to pitch a personal tent or canopy on property.
SCHOOL'S OUT FOR SUMMER!
Kid peak season? Summer! You should expect more children on property during your summer visit at any AutoCamp property.