Located in the western foothills of the Sierra Nevada Mountains, nestled between Merced and Yosemite National Park, Mariposa County is a small region with a robust history. It has been a home for visitors from all over the world, who have come here in search of the beauty and the wealth of the West. As one of the original counties in California, Mariposa took up one-fifth of the state before being broken up into eleven counties, granting it the nickname "Mother of Counties." The Southern Miwuk Indians were the first to settle here before Spanish explorers arrived in 1806 and gave the county its name "Las Mariposas" because of the abundant amount of butterflies they observed here.
Mariposa County was formally founded in 1850 as part of an 1846 Mexican Land Grant to General John C Fremont. Fremont took over the land right at the start ofthe California Gold Rush. Many pioneers who flocked to the state to mine along the streambeds of the American River,
took root in this small town as Fremont leased mines along Mariposa Creek. Two of the oldest and most prized mines are located in Mariposa – the Mockingbird Gold Mine and the Colorado Quartz Mine- and still, produce world-class crystalized gold to this day. As the Southernmost tip of the "Mother Lode" region, the abundant mineral wealth of the land allowed for the construction of the historic homes and buildings that reside in downtown Mariposa. The Mariposa County Courthouse, built in 1854, is the oldest courthouse west of the Rocky Mountains.
The county soon became a bustling hub and continued to draw visitors long after the surge of mining faded, as the community turned towards farming, ranching, and lumber, diversifying the economy and further developing the region. The prosperity of the town and the surrounding county was only further strengthened by the creation of Yosemite National Park in 1890. The famous Naturalist, glaciologist, and environmental activist, John Muir, lived in Yosemite on and off for many years in a small cabin by Yosemite Falls. Muir spent his life fighting for the preservation of our environment and his words which praised the unimaginable beauty of Yosemite and the Sierra Nevadas, have influenced thousands to make the pilgrimage into the valley every year since its creation over a hundred years before.
Over 4 million people visit Yosemite every year, and the small town charm of Mariposa has delighted those who pass through it, since the first pioneers who arrived here. Mariposa is a town of many names, but we cannot wait to add one more to the list and call it our home.
WHAT DREW US TO MARIPOSA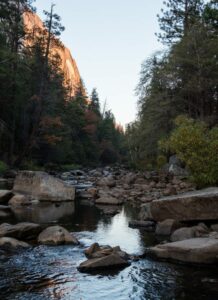 So why Mariposa for our next AutoCamp location? At AutoCamp, our goal is to provide our guests with the opportunity to experience places they have always dreamed of visiting, and for us, Yosemite was on the top of our list. It is one of the most sought-after places to visit in the
world. To us, there is nothing more iconic than the face of El Capitan or the peak of Half Dome. By opening AutoCamp Yosemite in Mariposa, our guests will only be 22 miles from El Portal and 36 miles from the center of the valley. With straight access into the park and a charming downtown, Mariposa is where we want to be! We can't wait to add AutoCamp Yosemite as another place to stay near Yosemite.
Another key factor for our team when looking into location was the proximity to major cities such as Los Angeles and San Francisco. Yosemite is a destination that guests from bustling areas can get to by car or plane in just a few hours. Adventure should be accessible to everyone and we hope that our newest Airstream hotel can provide everyone with a chance to get out and connect with the environment. We know Yosemite is the perfect place to bring our Airstream resort option.
OUR FAVORITE PLACES
Since we first broke ground this past spring, our team has spent countless hours and nights on property preparing for opening this winter. Our Project Management team is on site every week overseeing construction. Our General Manager lives in his own Airstream only a few minutes away from AutoCamp and is on site every day. Our whole Marketing team has dedicated their weekends to spending time in Mariposa working on scouting and photography. Needless to say, we have checked out a few of the local spots during our time in town so far, and we have pulled together some of our favorites.
SUGAR PINE CAFE
Located in the heart of Downtown Mariposa, Sugar Pine Cafe is an all-American eatery that serves comfort food and fresh baked goods. We love it for the home-made breakfast and lunch classics. Whether you are in the mood for a sausage scramble and buttermilk pancakes, or a Club sandwich and a Root Beer float, this delightful cafe has something for everyone. Pro tip: try a biscuit or a scone when you go, we can't get enough of them!
THE ALLEY
If you are in the mood for craft beer and some small plates, The Alley is the place to go. Only a block away from 1850, you can head to this local pub for a mid-afternoon snack and a cold pint before dinner. They have 16 rotating beers on draft and a wine menu that highlights California grapes and small batch winemakers. The ambiance is great and the warm Bavarian pretzels with smoked beer cheese are even better.
1850
After a long day exploring the park, nothing is better than 1850 Restaurant to cap off your evening. Located right on CA-140, only a short drive from AutoCamp Yosemite, this has been one of our go-to dinner spots. Our team likes to come here after being in the field all week and relax with a beer and a few of the house specialties. We recommend trying the classic "1850" burger or the extra crispy fried chicken. You'll be a happy camper, we promise.
HIDEOUT SALOON
Every great town has a great bar and the Hideout Saloon is our choice for a way to end a night out. This historic, local drinking hole is a 49er Gold Rush dive bar with the decor and spirit to prove it. Come for the rotating drafts and stay for the live music every Thursday, Friday, and Saturday night. You might just find our whole team here on Wednesdays for karaoke, but you'll have to see for yourself!
SEE YOU SOON
Mariposa already feels like home and we cannot wait to have you stay with us at the newest yosemite hotel. We are thrilled to bring AutoCamp Yosemite to life in only a few short months. With 102 accommodations, a two-story clubhouse, onsite pond, and pool, we are reimagining the Yosemite experience. Booking your Yosemite adventure now.