Make AutoCamp your base camp as you experience the California Superbloom! We're anticipating this to be one of the most epic superblooms in years, thanks to winter rainstorms up and down the state. To help you plan your trip and ensure you'll spot some stunning wildflowers, we've rounded up some of our favorite superbloom spots near AutoCamp Joshua Tree, AutoCamp Yosemite, and AutoCamp Russian River.
Important tip #1: Enjoy from a distance! Stay off the wildflowers and stay on the trails.
Important tip #2: March and April are ideal months to spot superblooms in lower elevations, deserts, and foothills. April through June is when you can expect to see wildflower blooms in higher elevations, upper desert slopes, canyons, and higher valleys.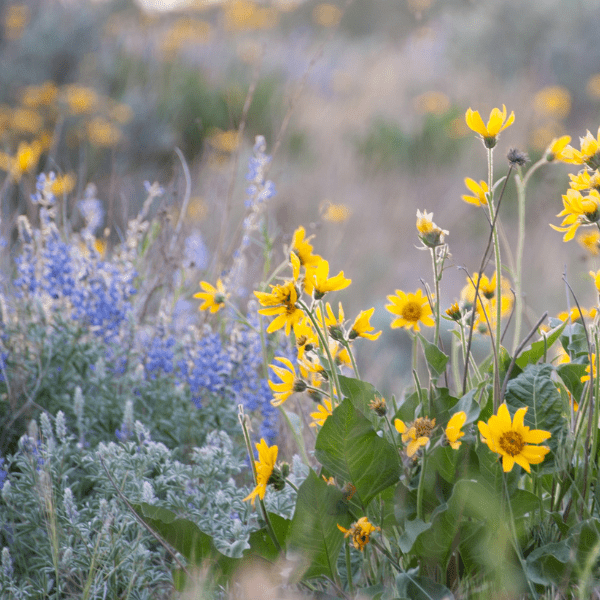 Blooms Near Joshua Tree National Park
Early in the season try exploring around the South/ Cottonwood Entrance of Joshua National Park. Beginning in March or April, flowers will pop up around the town of Joshua Tree and the West Entrance to the National Park – which is the entrance closest to the House & Casita.
In March and April, you can typically always experience the wildflower blooms in lower elevations, like the Park's Southern Entrance, Cottonwood, and the Pinto Basin areas.
Wildflowers to look for include: Arizona Lupine, Desert Gold (Geraea canescens), Desert Canterbury Bells (Phacelia campanularia), and Poppies (Eschscholzia spp.)
March through May climb to 3000 to 5000 ft elevations, upper desert slopes, canyons, and higher valleys to catch some higher-altitude blooms. These areas include Hidden Valley, Indian Cove, Jumbo Rocks, and Twin Tanks areas. From April to June hike up 5000+ elevation to spots like Juniper Flats, Black Rock Canyon, and the Covington Flat areas.
Flowers Around Yosemite National Park
The early wildflower blooms start in March at Hite Cove, a few miles outside the park at around 2,000 feet elevation. In late March/April, Yosemite Valley and Wawona Meadow come alive with vibrant florals. Cook's Meadow Loop in the Yosemite Valley, Wawona Meadow Loop in Wawona, and Wapama Falls in Hetch Hetchy are popular trails for wildflower spotting. May and June are ideal months for spotting wildflowers in higher elevations, like along Glacier Point and Tioga Roads. Popular trails for spotting high-elevation wildflower blooms include McGurk Meadow, Taft Point, and Sentinel Dome, all along the Glacier Point Road. Both the Taft Point and Sentinel Dome trails offer an array of flowers in the first half mile.
Superbloom in Sonoma Valley
Sonoma County's rolling green hills and winding trails will soon burst with California poppies and vibrant blue irises. Two of our favorite superbloom spots include Armstrong Redwoods State Natural Reserve in Guerneville (5 minutes from AutoCamp!) to spot early bloom species like pale pink milkmaids and spiked lupine. The 820-acre North Sonoma Mountain Regional Park is another great destination for oak woodlands and buttercups. You can stumble upon wildflowers in all habitats in Northern California right about now: look for them in oak woodlands, grasslands, coastal bluffs, or beach dunes.