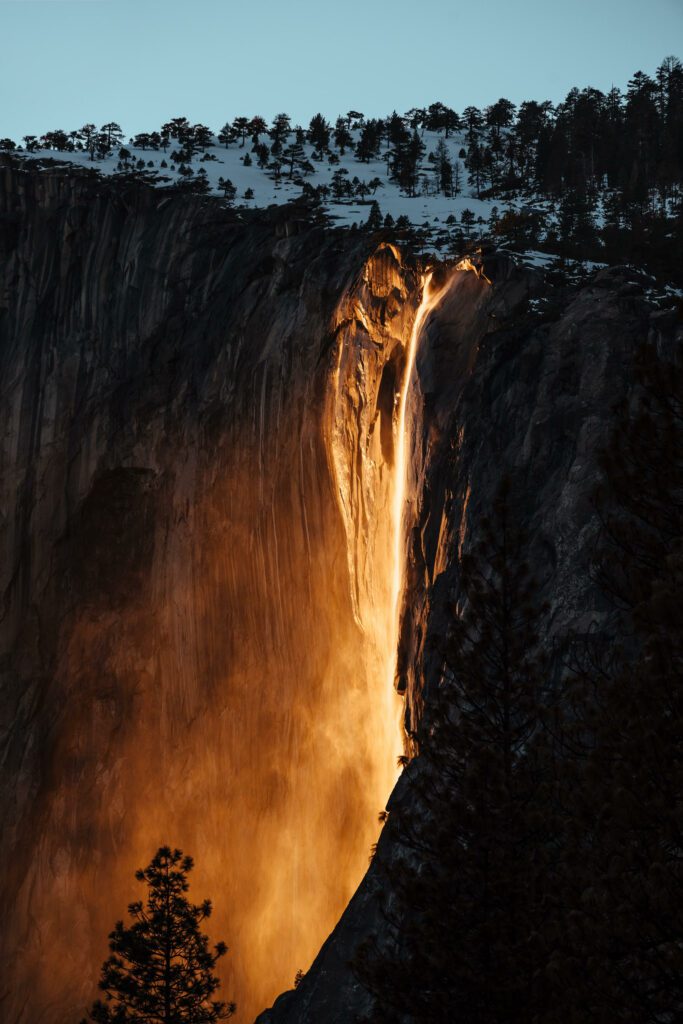 One of Yosemite's most incredible natural phenomena is nearly here and with the recent rains, Firefall is going to be extra special this year. Witness it for yourself, snap some photos, and then head back to AutoCamp to warm up by the campfire.
We've helped you plan your trip by rounding up some of the most commonly asked Firefall questions.
What is Firefall?
During most of February, the sun's specific angle of descent causes the seasonally-occurring Horsetail Falls to become side-lit. The result of numerous conditions all aligning at once creates the illusion of the waterfall on fire.
When's the best time to see the Yosemite Firefall?
During the latter half of February (10th-28th), the magical moment itself occurs around 5 to 15 minutes before sunset. However, you should plan to invest several hours to get to the right place in time.
Do I need a Park reservation?
If you plan on visiting February 10–12, February 17–19, or February 24–26, 2023, you will need a Park entrance reservation which you can book on Recreation.gov
For the most up-to-date information, check the official NPS website here.
Where do I need to go to see the Firefall?
The El Capitan Picnic Area is one of the most popular destinations for Yosemite Firefall viewers and is closest to the location where Galen Rowell took that first now-legendary photograph. It's also one of the closest viewing spots!
What should I bring to view Firefall?
A flashlight or headlamp.
Warm boots or other footwear that is also comfortable to walk in.
A foldable camp chair or an insulated pad to sit or stand on.
Snacks and water.
Extra warm layers – gloves, hat, extra jackets, scarf or even a blanket.
A phone or camera to snap some shots!